WHAT EXACTLY IS MARDI GRAS?
thoughts from a local girl
As a musician I have been granted the opportunity to travel to many places and meet people from all walks of life while celebrating all sorts of events around the globe. Even after experiencing so many diverse traditions, I can certainly tell you that I still feel like there is no experience quite as unique as Mardi Gras in Louisiana. For those of you fortunate enough to live here in Louisiana, or close enough to have joined in on the revelry, you know that Mardi Gras is as much a part of "what we do" as eating cake on your birthday. I promise you, Mardi Gras isn't what you've seen on those reruns of Cops. Sure, there are always a few tourists that have enjoyed one too many Hand Grenades, but growing up here, I can tell you that this celebration is mostly about close-knit families, rich culture and so much more. 
You see, Mardi Gras is like a right of passage that all locals experience at some point. Mardi Gras is like one of those portraits made up of a bunch of tiny little pictures that represents each krewe, parade, king cake, throw, reveler and Royal Court. New Orleans is the heartbeat of Mardi Gras with honored traditions and celebrations – like watching the beloved Super Krewes parade down St. Charles Avenue with your kids, sharing the ladder your parents made for you. 
Friends gather together in neighborhoods throughout the city with coordinating costumes, bursting with color and glitter. You can see decked out Drag Queens at the Bourbon Street Awards, Mardi Gras Indians unveiling beautifully ornate, secretly-made beadwork, and local ladies dressed to the nines dragging their Yeti coolers and Popeyes Chicken platters to attend formal balls. 
Unlike most holidays we grow up celebrating, Carnival isn't about going to obligatory office parties or biting your tongue at the family dinner table – it's quite the opposite. Mardi Gras is a holiday meant to celebrate YOU.  With so many offerings throughout the city and state, there are endless ways to celebrate what brings you joy. Whether you're happiest sitting on a friend's porch a block away from the ongoing parades, or you feel most alive chasing chickens down in Cajun Country, this is the time of year that Louisiana has it all. It is a holiday built completely on the happiness of those who celebrate it. It's yours to make and remember all your own. Here is a little recap of how I celebrated Mardi Gras 2020.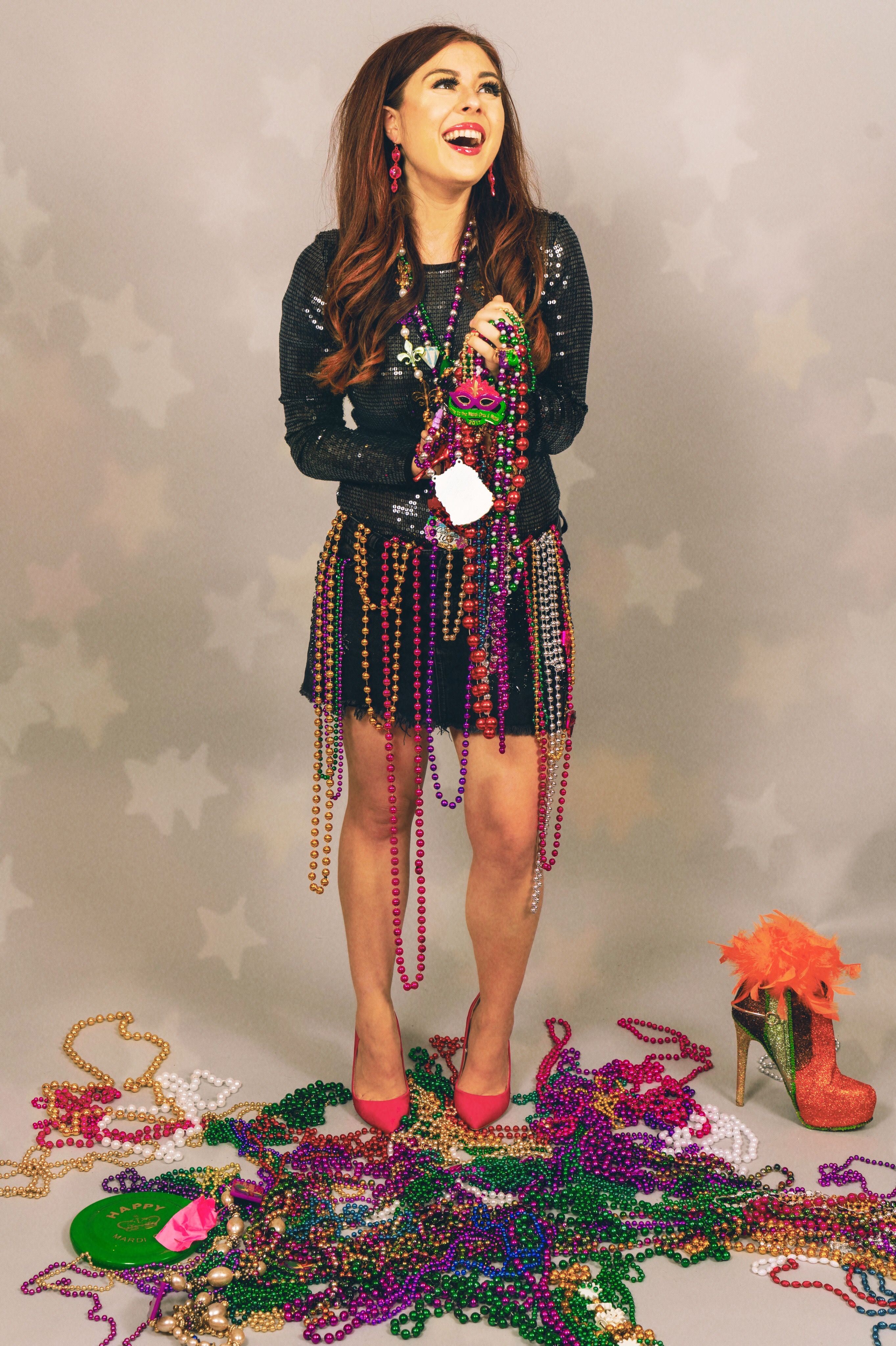 WEEKEND ONE
I spent the first weekend of Mardi Gras participating in events around Jefferson Parish, which was kicked off by Family Gras 2020. Family Gras is a free event in Metairie that draws big crowds and even bigger names in entertainment. This year, I was fortunate enough to perform as a part of their Louisiana Legends Show! Special guests included Irma Thomas, The Dixie Cups, John Gros and others. It was such an honor to bring my fiddle and perform alongside so many Louisiana icons! 
The following night was the inaugural ride for the brand new Krewe of Magical Madhatters, a parade inspired by Alice in Wonderland, where local celebrities were tapped to reign as famous characters from the story. I was honored and beyond excited to be able to live out a childhood fantasy when they asked me to be Alice! My band, The Cute Guys, joined me on the float, entertaining parade goers along the route. I also had the special experience of riding with my friend Scoot from Scoot On the Air! If you don't already follow Scoot's blog, check it out here ! Congratulations to Joey Lacoste for successfully creating such a magical and unique krewe! It will be fun to watch the Krewe of Magical Madhatters grow for years to come! *Alice dress is a custom design by Jenny Cambell
WEEKEND TWO
The weekend leading to Mardi Gras did not disappoint either. You can always feel the excitement in the air as locals start the final countdown to Fat Tuesday. On Friday, I started with an event most people consider the "unofficial" kick-off of Mardi Gras – The Annual Greasing of the Poles at Royal Sonesta Hotel. This tradition started decades ago to keep drunken revelers from trying to climb up the porch support beams in the French Quarter. Today, this event is a fun filled competition full of friendly rivalries among local celebrities who battle for the title of "best greaser." Basically, this contest is a double entendre fueled with mimosas and bloody marys – it's definitely a must-see if it's your first Mardi Gras. I've been fortunate enough to participate in Greasing of the Poles three times, and each year has been more fun than the last. I decided to take full advantage of this year's Roaring 20's theme by living out my Charlie Chaplin Dreams!
To achieve this look, all you need is a really dark black pencil and a good smudge brush – a slightly thicker pencil is better so you can over line and overfill the eyebrows and get that darker look. I purchased these pretty inexpensively at Ulta Beauty. I also purchased a fake mustache at Party City, but in hindsight, it would have been better if I had just painted the mustache on directly with my dark eye pencil.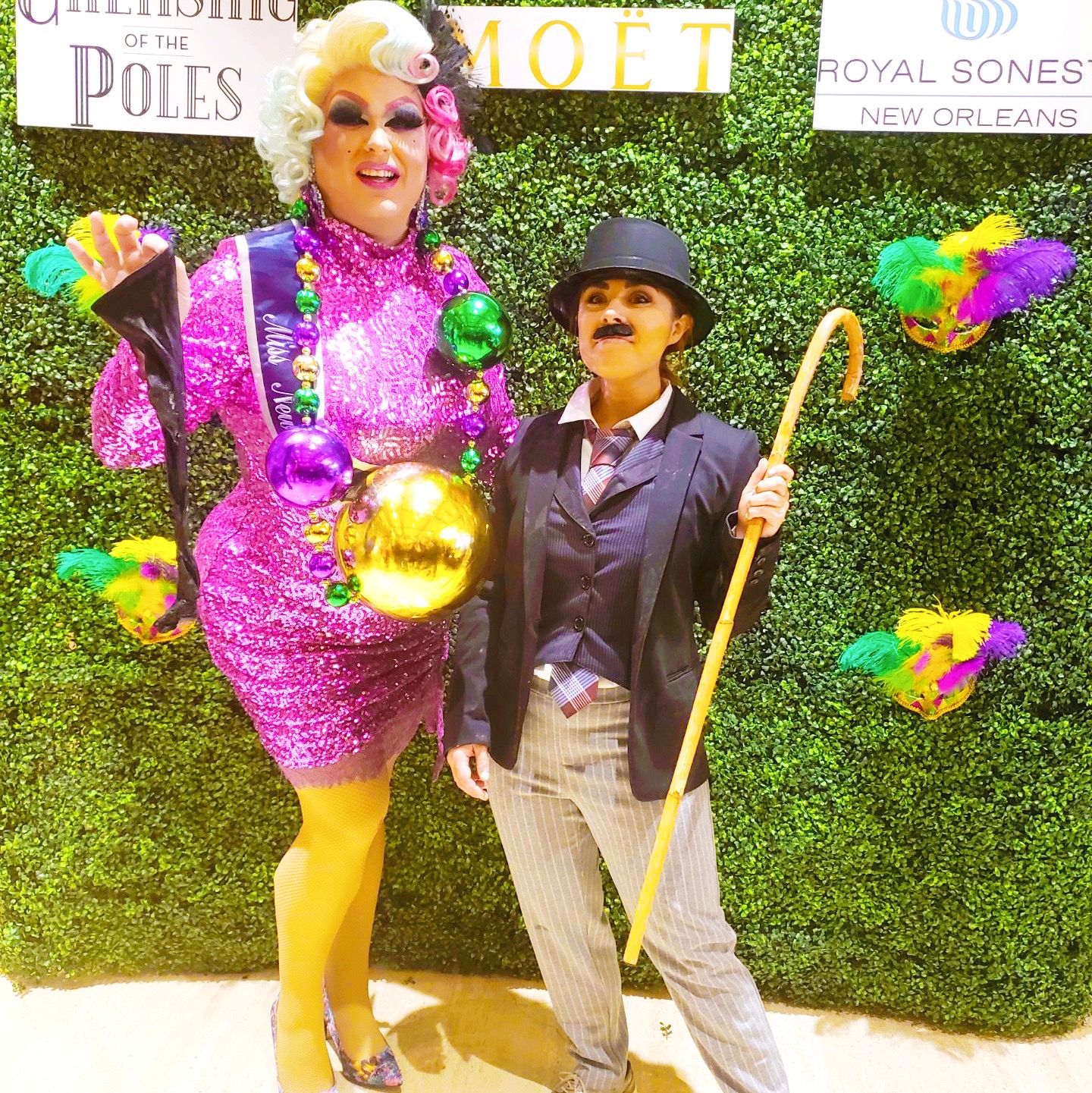 The next day, I stopped by Acme Oyster House on Bourbon Street to say hello to the ladies of Dames de Perlange. This all female walking group parades throughout the French Quarter every year on the Saturday before Mardi Gras. These talented women wear hand-decorated bodices made from recycled Mardi Gras beads. How unique is that?! This year's theme was "Fierce Louisiana Ladies," which I loved so much because it's inspiring to see women from my home state supporting each other. Each of the dames honored a Louisiana lady and decorated her bodice in the honoree's image. The designs were incredible pieces of art and extremely educational – I learned about so many women from Louisiana! I also got to meet Dame Lori, who chose me as her "Fierce Louisiana Lady," and I was completely in awe of how beautiful she looked! I am so honored that Lori chose me, and extremely excited to meet her in person!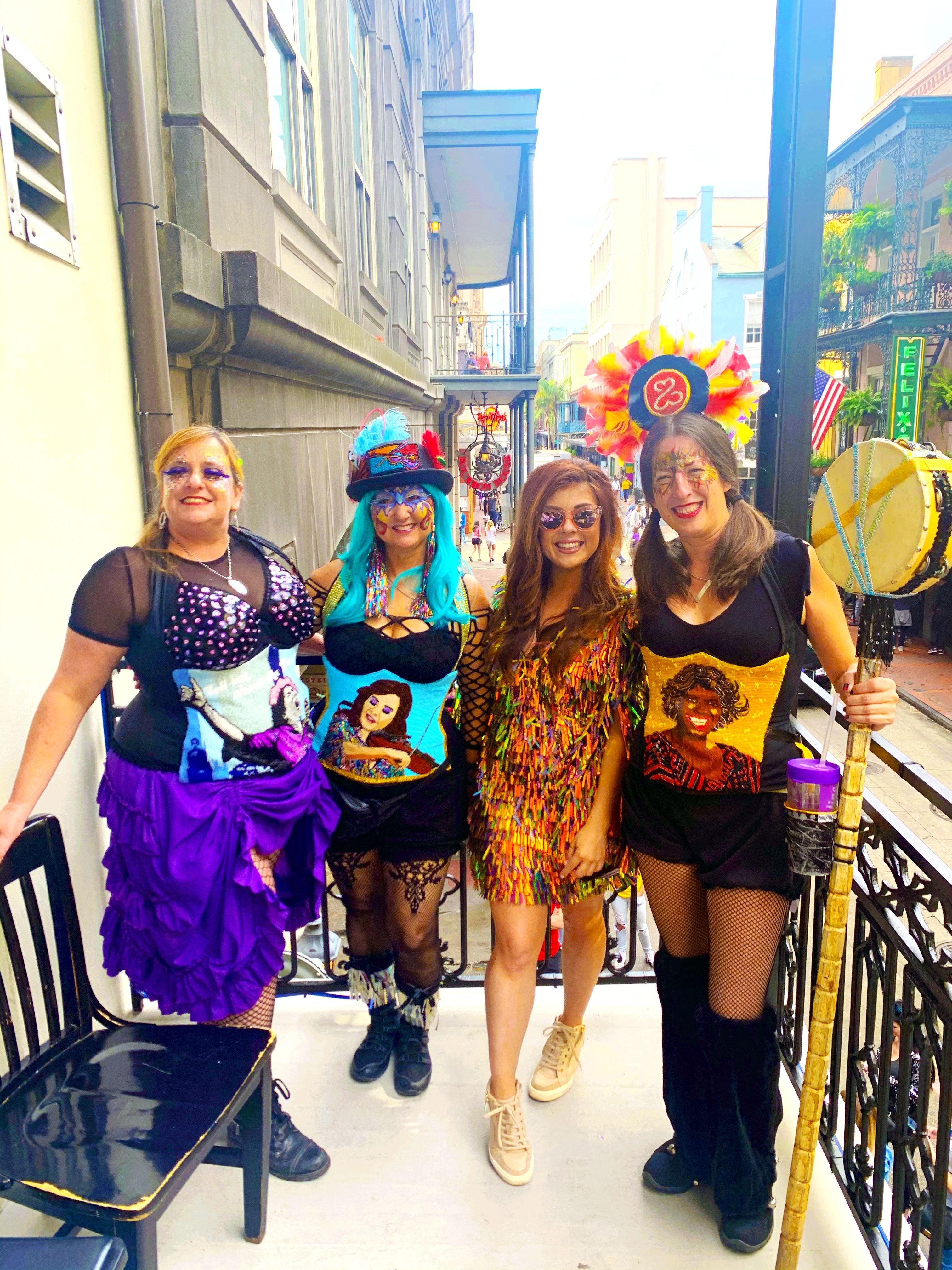 Sunday, I attended the Bacchus Ball, which I like to say is where Cinderella meets Mardi Gras. This party is like nothing else in the world because the Mardi Gras parades actually roll through the Convention Center as the Krewe of Bacchus finishes its route. Spectators take part in all the things they would normally do while watching the parade roll, except it happens inside the Convention Center with VIP seating and five-star viewing areas. Plus, it is always a bonus to see the King of Bacchus on stage, toasting to Carnival.  But, I think what I love the most about this event is that while black tie is mandatory, it's a BYOB event. The sight walking to the party is hilarious – ball gowns, high heels and bow ties, followed by ice chests, trays of finger sandwiches and chicken wings. I don't know why this cracks me up so much, but it does. This year's theme was Bacchus Goes West, and y'all know I love all things Southern, so this country girl was absolutely thrilled at the thought of snagging a cowboy hat and other western throws from float riders.  Bacchus went all out by dressing the hallways with all kinds props that made everyone feel like a modern day John Wayne.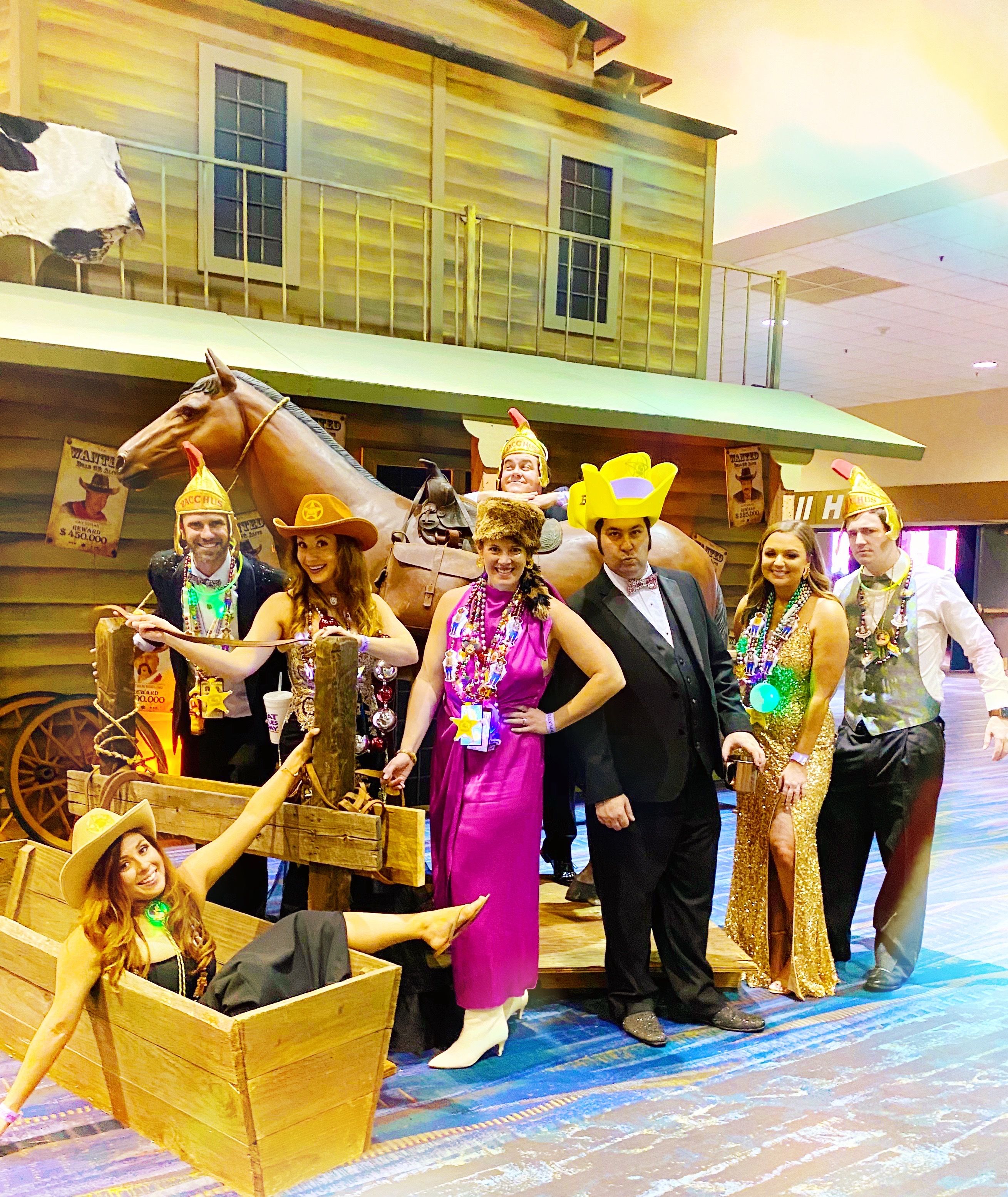 THE BIG DAY
My final day of celebrations was actually the most quiet of all the days. For me, Fat Tuesday is always like Christmas Day. The planning and costuming have been completed, the cocktails have been enjoyed, the parties have been attended and the throws have been caught. It's a day to reminisce and reflect in amazement over an entire community celebrating each other. I watched the Zulu and Rex parades on TV, as I do every year, with a cup a tea and one of my fur babies by my side. Then, I packed up my RV, and took off down the road to the Island View Casino in Gulfport to play a Mardi Gras Show with my Godfather Rockin' Dopsie Jr. This the third year in a row that I've performed and I love how excited everyone in Mississippi gets to have a little taste of Mardi Gras in their own backyard. The show is always high energy and amazing, and as I finished my last note on that stage, I closed the curtains on Mardi Gras 2020. 
I'm so grateful to have grown up in a place that not only encourages locals to be themselves, but also has an entire season dedicated to celebrating life. If you've ever wondered what it's like to dance like no one is watching, or laugh until your cheeks hurt, then you have to experience Mardi Gras in Louisiana at least once. Not because it's the wildest party you've ever been to, even though it can be, but because it's a the most special, unique party you'll ever experience. I'll end with this thought. We all deserve to be happy and do things that bring us joy no matter what that looks like for you. What if we decide to celebrate ourselves like its Mardi Gras everyday? We don't always give ourselves permission to let loose and enjoy life, but it's an important part of what makes each of us who we are, and ultimately your joy is dependent on you being YOU. The world is full of so many kinds of people, but happy people make a happy world.